Changing our community, one life at a time.
Foundry's Mining Engineer Fellowship provides Rochester's youth with training and employment in the blockchain industry by leveraging the "4 E's"—education, exposure, equity, and employment.
Throughout the mining fellowship program, fellows gain work experience as mining engineers providing full-service mining equipment installation throughout the US.
Apply Now
Mining Fellowship Comprehensive Curriculum
Industry Mentorship
Job Readiness
Financial Literacy
Technical Skills
Drivers Education
Remediation Support
Who We're
Looking For
We want intellectually curious, passionate learners who:
are resilient, tenacious, and have a positive attitude
are highly motivated and goal-oriented
have good communication skills
have great attention to detail
are able to lift 50 lbs
These are preferred qualifications only. The candidate does NOT need to meet all of these to qualify for the role.
"The mining fellowship has presented me with nothing but life-changing opportunities. Feeling welcome in a new and diverse environment allowed me to build lifelong connections. My mentors have shown me a lot about becoming a professional and have been there every step of the way to help me achieve my goals. I'm so grateful to be a part of the Foundry team."
Teresa
Foundry Academy Student
360-Degree View of Blockchain Industry Operations
Fellows will dive into Foundry's mining, financial, business, research, and development operation, as well as gain insight from some of the industry's most knowledgeable leaders.
Gainful Employment
Working hands-on as mining engineers while acquiring education in the industry, Fellows accrue salary and benefits from day one.
Mining engineers will:
unbox, inspect, and prepare units for racking
rack units, plug in power and network cables, and power on machine
remove packaging materials, pallets, banding, and wrapping
move pallets of units from the staging environment into the mining environment
work a total of 8 hours per day and must be able to lift
50 lbs
FAQ
01
What is a Mining Engineer?
Mining Engineers support the Mining Operations team by servicing and maintaining miners, installing units, programming miners with appropriate software, performing repairs as needed and more.
02
What is cryptocurrency?
Cryptocurrency is digital currency that does not rely on any central authority. Transactions are verified and records are maintained using blockchain technology—a network of computers that stores data in a decentralized and secure manner.
Bitcoin is the world's first digitally native asset built on an open and public infrastructure, called the Bitcoin network. Bitcoin is the largest and most secure computer network in the world and has been operating without interruptions or corruptions since 2009.  Bitcoin allows anyone in the world to send and receive value simply by connecting to the internet.
04
What is Bitcoin mining?
Bitcoin mining is the process through which the Bitcoin network confirms transactions without any intermediary taking a cut. Bitcoin miners operate special computers that require the use of energy to a) protect the network from attack, b) verify legitimate transactions, and c) incentivize miners for their work in the form of newly minted coins. Through this process, the Bitcoin network settles roughly $20 billion USD in transactions per day, and it has the capability to scale to $1 trillion per day.
The Mining Engineer Fellowship is two years long.
Applications are accepted on a rolling basis. Submissions will be evaluated as they are received. There is no deadline to apply.
05
How long is the Mining Engineer Fellowship?
The Mining Engineer Fellowship is two years long.
Applications are accepted on a rolling basis. Submissions will be evaluated as they are received. There is no deadline to apply.
06
What are the requirements to apply?
Applicants must be between the ages of 18 and 23, a graduate of the Rochester City School District and a current resident of the City of Rochester.
Applications are accepted on a rolling basis. Submissions will be evaluated as they are received. There is no deadline to apply.
07
Where does the Mining Engineer Fellowship take place?
The mining engineer fellowship takes place at our HQ location in Pittsford, NY, our mining facilities in Fairport and Arcade, as well as various other mining locations throughout North America.
08
What is the salary for a Mining Engineer Fellow?
Mining Engineer Fellows receive a living wage, as well as access to various dental, health care, 401k, and employee benefits.
Meet the Fellows
Charlton Gilbert
Mining Engineer Fellow, Cohort 1
My name is Charlton and I work for Foundry as a Mining Engineer Fellow. I graduated from Edison Tech High School with a regent's diploma. After school I wasn't interested in college, so I went into the work force and started working at Burlington Coat Factory. I felt like I wasn't doing what I loved, so I left and spent my time learning about cryptocurrency while reselling on eBay. In my free time I enjoy playing basketball, roller skating and listening to music.
I found out about Foundry and the Mining Engineer Fellowship through Rochester Works. I got a call from Adrian Hale, and he told me about the position. At first I wasn't interested, but he encouraged me to apply and now I have one of the greatest jobs ever.
Something I'll leave for any new Mining Engineer Fellow is my favorite quotes from Kung Fu Panda: "Yesterday is history, tomorrow is a mystery, and today is a gift—that's why it's called the present." – Master Oogway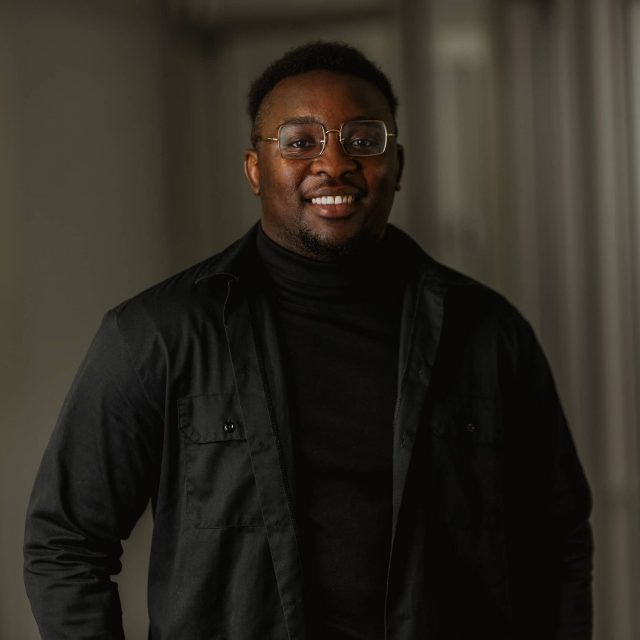 Teresa Spivey
Mining Engineer Fellow, Cohort 1
My name is Teresa Spivey and being a Mining Engineer Fellow was interesting to me because it was something new and I wanted to be able to learn something I wasn't familiar with. I think I'm interested in the economic and political development part of the crypto industry, because I want to be more involved in the community and the betterment of it, but I'm exploring and learning from different departments to really find my passion.
My talents and hobbies are swimming, basketball, and art. My family supports me anytime they can so I want to be able to do the same and knowing what I want in life motivates me to do what I can to get it done. I believe my greatest strength is perseverance because a lot of obstacles have come my way and it's been up to me to overcome them.
Advice I would give a future Fellow is have a parachute mind and if the effort is there, anything is possible.